| | | |
| --- | --- | --- |
| GolfCalc | | " Stats Central " |

Golf Handicap

Instruction Tips

Track & Graph Key Skills!
Your COMPLETE golf statistics web site!


GolfCalc is NOW TOTALLY FREE!!
Click here, or on 'Join Now'




Now you don't have to belong to a country club to have a handicap. GolfCalc will calculate your handicap for you.

No more estimating handicaps for weekend matches. Get all your friends to join to eliminate that unnecessary haggling at the first tee! Stop driving to remote courses to post your scores. Now you can track your improvement from home, work or while traveling.

Want to improve your game? Aren't sure where to spend your practice time? Not only will GolfCalc send you its Top 20 Game Improvement Tips, but having access to our Skill Stats & Graphs database will allow you to track key accuracy and short game statistics and graph your improvements. You can also print out a statsheet that you can use to fill in your score and stats during a round of golf, and print out your personal public Handicap Card, that displays your handicap and most recent scores. (Please click on the "Free Demo" golf ball on the left menu or just to the right on the Welcome Diamond to see how easy it is to use GolfCalc)


Based on your input, GolfCalc will calculate your Handicap. In addition, you can track the following

key statistics,

in table and graph formats, to pinpoint your practice needs:

* Fairways Hit
* Greens in Regulation
* Number of Putts
* Driving Distance
* Penalty Strokes per Round
Snap Shot of Java format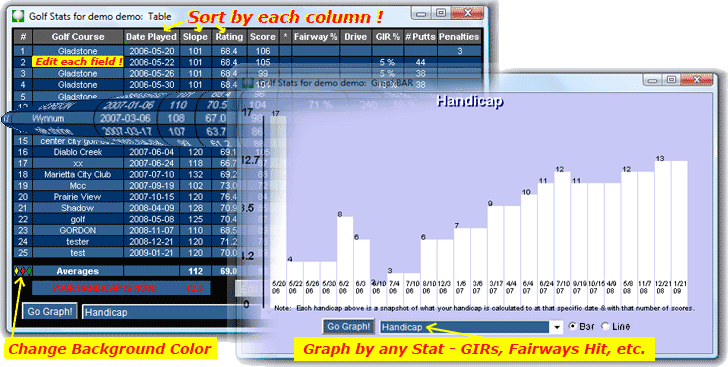 You can now also Compare your Skill Stats to the Pros and to all other GolfCalc members:
Snap Shot of HTML format




















Compare the following:



* Fairways Hit %
* Driving Yardage
* GIRs %
* # of Putts


Join today and watch your scores improve! (testimonials)

Joining costs just $19.95 for the first year, or try the first month free (plus $1.95 for processing)

NOW COMPLETELY FREE!!

This entitles you to GolfCalc's Top 20 Game Improvement Tips. And GolfCalc will calculate your handicap and maintain your Skill Stats and Graphs for one year, and maintain them, if you choose to renew after 1 year. To order, click on the "Join Now! / Renew " golf ball.



Testimonials